2015 Commercial Real Estate Heavy Hitters Awards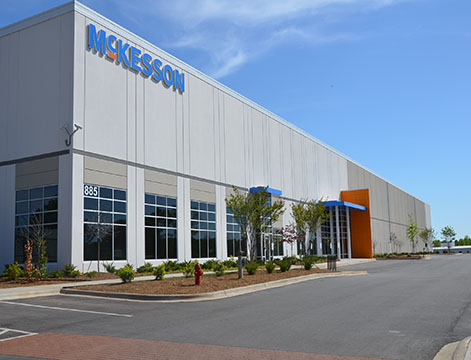 Top warehouse project: McKesson Medical-Surgical Inc. at Riverwalk
The McKesson center, which distributes medical supplies, opened in the summer and is expected to bring up to 140 jobs to York County. The $27.5 million development measures 300,000 square feet in Riverwalk.
InterCon build the facility for McKesson, a Fortune 500 company based in San Francisco, and we were extremely proud to deliver the highest quality building for a client with necessarily high standards of excellence.
For the second year in a row, InterCon has been part of a team that CBJ acknowledged during the Heavy Hitters Awards.  The fact that the McKesson project was the top warehouse for 2015 is a reflection of the great team assembled by The Assured Group, Trinity Capital and McKesson Medical-Surgical.  We were pleased to work with WGM Design as the architect, and we are glad to see McKesson expand into the Charlotte market in an InterCon built facility.